Dr Suresh Hungenahally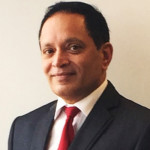 CISO and Cyber Security Lead
CommTel Network Solutions
Dr Hungenahally is the Chief Information Security Officer and Cyber Security Lead at CommTel Network Solutions. Specialising in security management, he is a leading expert and security strategist in operational technology (OT) and information technology (IT). Focused on securing information assets, he delivers business outcomes by providing strategic alignment and best practices to secure an organisation.
Dr Hungenahally has 20 years' experience in both the public and private sectors, highlighted by key leadership roles including CISO of the Victorian Government (Australia) and CIO of Cendant Australasia. Additionally he has had success in key executive leadership roles for the Victorian Government, Griffith University, Tarong Energy, Queensland Electricity Commission, Concept Energy Solutions, Toll Holdings, Brisbane City Council, Queensland Government, Telstra Corporation, KPMG consulting, National Australia Bank, Capgemini, Australian Defence and the Australian Tax Office.
Combined with his passion for innovative and creative problem-solving, he delivers value by providing expert advice to senior executives in the areas of infrastructure cybersecurity, information security governance risk and compliance, controls implementation, security analytics intelligence, enterprise search, BPM, IT management and leadership training. With an understanding of the long-term value of solutions, he delivers value by managing business risks and delivering program outcomes, with a defined and positive ROI (return on investment).